Welcome to this report of the Clan War in Clash of Clans against Old Fox. This is where our Chiefs (Noobs) come together and check out some of the attacks and defenses that won the clan war for us or gave us a good laugh. We call this series "The Round Table" which will happen with every Clan war we do in the Mobile friendly game.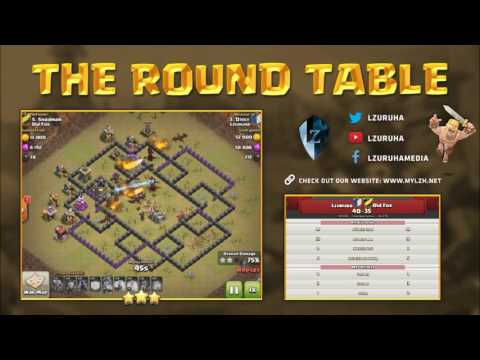 Looking for more Clashers!
Lzuruha is looking for more Clashers to join up for Clan Wars! What is Clash of Clans you might ask? Well it's an online multiplayer game in which players build a community (in the form of a clan), train troops, and attack other players to earn gold, elixir and Dark Elixir. Gold and elixir can be used to build defenses that protect the player from other players attacks. Elixir and dark elixir is also used to train and upgrade troops and spells. The game also features a pseudo-single player campaign in which the player can attack a series of fortified goblin villages and earn gold and elixir.
What do you do in Clash of Clans?
Players can join clans once they rebuild the special Clan Castle building early on. A major component of the gameplay of Clash of Clans is clans facing off against one another. Clan leaders and co-leaders can begin wars against other clans. Each clan is then given one "preparation day" and one "war day." When a player attacks a member of the opposing clan, they receive stars based upon the amount of destruction they cause to the opponent's community. Each player is limited to two attacks per war, and the team with the most stars at the end of the war day is declared victorious. If the two clans' amount of stars are equal, then the victorious clan is the one that has a greater percent destruction.
How to Join?
Search for "Lzuruha" and request to join, make sure you tell us who you are or you might get denied!
We look forward to seeing you wreck nerds with us in Clash of Clans! The first Mobile game Lzuruha has ever expanded into!