Welcome to this report of the Clan War in Clash of Clans. This is where our Chiefs (Noobs) come together and check out some of the attacks and defenses that won the clan war for us or gave us a good laugh. We call this series "The Round Table" which will happen with every Clan war we do in the Mobile friendly game.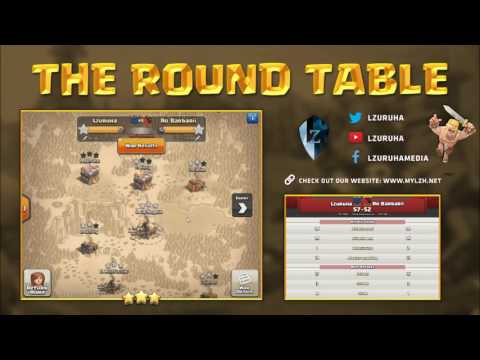 Clash of Clans is an online multiplayer game in which players build a community (in the form of a clan), train troops, and attack other players to earn gold, elixir and Dark Elixir. Gold and elixir can be used to build and reload defenses that protect the player from other players attacks. Elixir and dark elixir is also used to train and upgrade troops and spells. The game also features a pseudo-single player campaign in which the player can attack a series of fortified goblin villages and earn gold and elixir. The game has 2 'builders' by default but one can install more builders (maximum 5) using gems, builders are important for upgrading any building. If all builders are busy one has to either wait (if the player wants to upgrade a building) for them to be free or free them up using gems
Can't play because you don't have a phone or pad and want to join us? Well you can use a Android emulator like Memu to play mobile games with your google account! That means you can join us on Clash of Clans and Clash Royale and start having fun like the rest of us!
MEmu is an Android emulator that specializes in video games. With MEmu you can enjoy many exclusive titles that you can find for the Android platform, directly on your computer. You don't need to adjust any complicated settings and configure the controls, just install it and start playing.
Download:
http://www.memuplay.com/