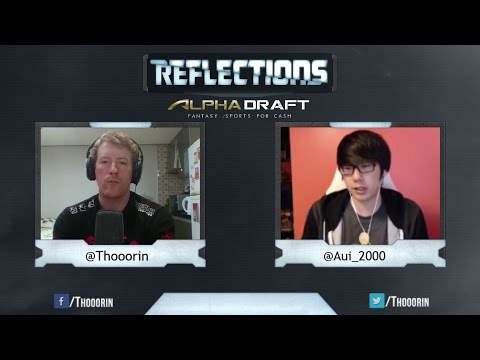 Kurtis "Aui_2000" Ling, former 4 position (Support) player of Cloud9 and Evil Geniuses, is the star of the 65th Episode of 'Reflections. This interview was recorded on the 17th of August.
Time line of topics discussed:
00:00 Intro
00:30 Strengths and style
05:23 Innovative builds and hero use
14:01 PotM Bottom and Dignitas
16:27 Leadership and shot-calling (EE and ppd)
23:04 Swapping to position 4 (Support) for Speed Gaming/Cloud9
29:28 Winning MLG Columbus
31:42 EE calling pieliedie the best player in the world
35:55 Losing finals and choking
40:50 Legit throws by C9
43:32 Coaching
45:24 Explaining EternaLEnVy
50:48 What could have been changed in C9 to make them the best?
52:09 Criticising team-mates
53:13 Consistency in C9 and getting kicked
1:05:32 Gets panicky
1:08:45 Joining EG
1:11:25 Winning DAC
1:15:35 EG during the rest of the year
1:17:26 ppd as a leader and drafter
1:22:37 Techies and TI5
1:28:38 Facing a mainly Chinese line-up of teams at TI
1:35:07 Secret falling off for TI
1:40:28 Will the majors system fix oversaturation?
1:41:59 mechanical skill cap
1:44:32 The best 4 position players in the world
1:49:29 Arteezy in the new EG
1:52:24 His naga and hero pool's effect on the final
1:55:25 Getting kicked from EG
2:01:27 Doesn't shit-talk
2:02:59 Does he want EG to get crushed?
2:04:52 Hypothetical where he gets to play in another team
2:12:13 Would he become a caster in the future?
2:12:57 Final words