December Events 2021 -- pathofexile.com/2021events
Should check the link for more detail's info on all the events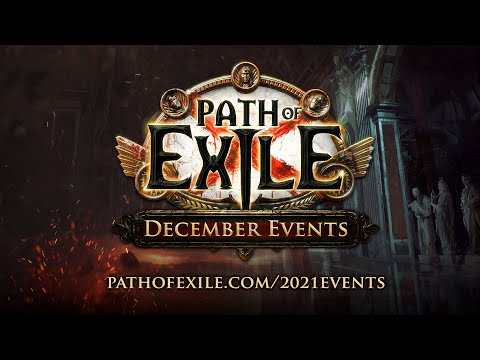 Will these events run on all platforms?
Events are PC-only.
Can I play my existing character?
No, you'll need to make new characters in each event.
How do I join the event?
At the character selection screen, there's a panel below your characters which will list the events available. You can join the event by clicking 'join'. This option becomes available 30 minutes before the event is set to begin. Your character won't be able to move until the event starts.
Can I make Private League versions of these events?
No.
Can I change my Ascendancy Class during these events?
No. This is to prevent people changing classes at the last minute as a cheap way to get a Demigod's Authority.
Why is Delve Solo Self-Found?
To party with other players, you would need access to towns or your Hideout which are not available due to the nature of the event.
If I delete my character, will I still get a prize?
No. Please do not delete your characters until after the prizes have been awarded.
Will I still be eligible for prizes if my character dies?
Yes.
If I level multiple characters will I have a greater chance of winning a prize?
Yes. Every character you level will be independently included in the pool for the prize draw at the end of the event. This excludes mystery boxes, where you will only be able to receive one per account per event.
Can I win more than one microtransaction prize?
Yes, it's possible to win multiple prizes. This excludes the mystery box which is awarded once per account per event. If you reach level 50 in all events, then you will receive five mystery boxes. These can be found in your microtransaction stash once awarded.
When will I receive a prize?
The Atlantis Mystery Box will be awarded automatically when you reach level 50 during an event. The other microtransactions and Demigod's Authorities will be awarded after the end of the event. You'll receive a private message on the website to notify you when this has happened.
Note that outside of the Mystery Boxes and Demigod's Authorities, prizes are drawn randomly and are not necessarily guaranteed. We'll post on our Twitter to confirm when the final prizes have gone out.
Will I have access to my crafting bench in Endless Delve and Endless Heist?
No.
Good luck, everyone! We can't wait to see the chaos and carnage unfold in these events. If you're not able to participate, be sure to check the action out
live on Twitch
!