You can always check out all their Q&A's and other neat content at their YouTube channel here:
https://www.youtube.com/c/OldSchoolRuneScape/videos
Instead of making new threads, going to just run a master thread for the Q&A series that will be stickied!
Starting with Nov 25th so there's a lot of backlogs in the link above!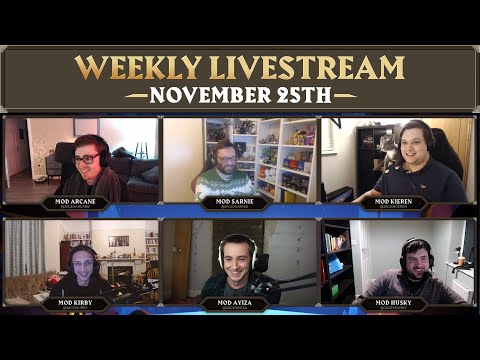 Watch as Mods Arcane, Husky & Sarnie answer your questions on the most recent Nex Rewards blog and we say hello to Mod Light for her very first livestream appearance!
0:00 - Intro
8:30 - Android Beta
10:15 - Do you plan to address streamers attempting to circumvent the new duel staking limits?
11:40 - Kind of sad that irons can't use dupes/death coffer gp to buy the bank slots, would have been a good use for dupes rather than dropping them for bond money. Will this be reconsidered?
14:07 - Why can't loot broadcasts work to opt me out of notifications from my friends?
17:28 - Question regarding the new chat modes. What was the feedback like on it and is there anything you're looking at changing for next week?
20:55 - Will zealot robes being effective at the ectofunctus be polled?
22:26 - Can we make the click ox for fairy rings the entire ring, rather than just the center?
23:34 - Are we ever getting new skills or has the team completely given up hope?
32:20 - Any updates on bounty hunter? When will it be reintroduced, will it ever be reintroduced?
35:12 - Suqah hides and lunar robes
38:42 - Currently the best method to Runecraft is unlocked at level 23. Is there any update on the new Runecrafting method?
43:40 - What is the confirmed release date for Nex? (January 5th!)
44:58 - Can you discuss what the thought process was like regarding Nex in her old design? Did you consider changing her into something different?
51:10 - Harmonised orb was going to be updated after you introduced raids 3 rewards but it has been left untouched. Could you please address it?
55:00 - What is the teams take on onyx bolts and tips?
58:25 - UGC
1:01:56 - Outro