Ocarina of Time 100% Human Theory TAS in 3:39:19 with ZFG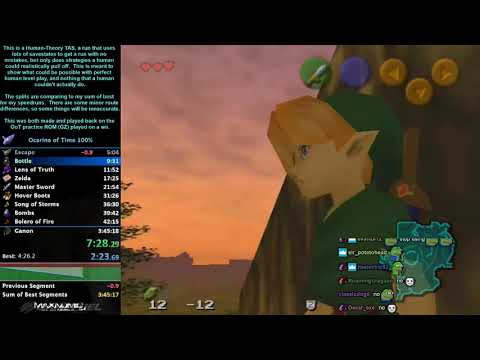 This is a Human-Theory TAS, a run that uses lots of savestates to get a run with no mistakes, but only does strategies a human could realistically pull off. This is meant to show what could be possible with perfect human level play, and nothing that a human couldn't actually do. This run did not use frame advance (going frame by frame for precise inputs) at all, everything was done in real time.
The splits are comparing to my sum of best for my speedruns. There are some minor route differences, so some things will be inaccurate (notably losing a minute in Bottom of the Well at the beginning, which ends up saving a significant amount of time much later on).
Splits for this run (corrected for the split errors on stream):
https://splits.io/41ln
This was both made and played back on the OoT practice ROM (GZ) played on a Wii. You can get the practice ROM or learn more about it here
https://practicerom.com/
No commentary/chat version of this run:
https://www.youtube.com/watch?v=OlmQ1...