A guide on how to prepare for Diablo 3: Reaper of Soul's upcoming patch 2.1.2 and Season 2. A lot of Season 2 has been discussed at Blizzcon 2014 if you need to brush up on whats to come as well in further detail
here
.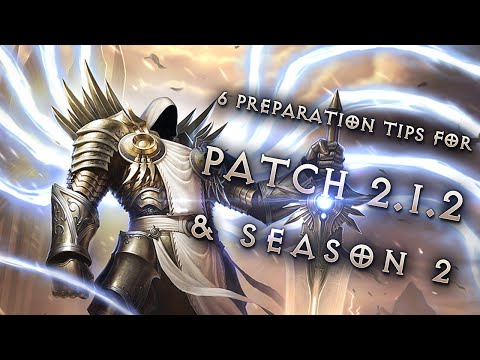 Here is some of the things to look forward to:
Mischief Managed: New Treasure Goblins!
The Blood Thief, the Odious Collector, and the Gem Hoarder are all variations of your typical Treasure Goblin. Each drops a different type of loot: Blood Shards, Crafting materials and recipes, and Gems respectively! These little guys will be arriving in Patch 2.1.2, and who knows? They might not be alone…
More to Explore: Nephalem Rifts Revisited
These changes will apply to the Oasis, Spider Caves, and Leoric's Jail maps and will be implemented for both Nephalem and Greater Rifts in Patch 2.1.2. We'll be doing the same for Stinging Winds, the Tristram Fields, and the Festering Woods in a future patch too!
Diamonds in the Rough: New Legendary Gems!
Blizzard is developing two new Legendary gems for Patch 2.1.2 that are oriented around Defense and Healing to help fill those gaps.
Greater Rift Improvements
Greater Rifts are a recent addition, and we've learned a lot since adding them. There are a ton of changes coming in the next patch to address some of our (and your) biggest concerns. Expect balance changes to Pylons, monster distribution levels, Rift Guardian randomness, and the addition of a Resurrection at Corpse option for non-Hardcore players, complete with incrementing death timer.
New Item Tier: Ancient Items
Every Legendary in the game has a chance to roll as an Ancient Legendary, and they can only be acquired in Torment I and above. The higher your Torment level, the greater your chance of finding an Ancient item!
Source:
http://us.battle.net/d3/en/blog/1665...d-up-11-9-2014