In this episode of the Community Spotlight we're showcasing ChampionBeef playing T
he Legend of Heroes: Trails of Cold Steel II which was estimated to take 10 hours.
The game takes place at the same time frame as Zero and Ao no Kiseki games, but in the Erebonian Empire. The game's plot is centered around the newly formed special class "Class VII" in Thors Military Academy, composed of both aristocrats and normal Erebonian citizens. Class VII is the only class in the entire academy that does not segregate the two different social classes.
The game follows Class VII throughout their school year, mainly around the times when Class VII receive special field training that takes them all over Erebonia. Throughout their training across Erebonia, Class VII matures and casts aside their preconceptions of the two social classes and witness first hand the reality of the empire; The power struggle between the aristocracy led by the four noble houses, and the working class reformists led by Iron Blood Chancellor Osborne which threatens to lead to a civil war.
They also awaken Valimar, a knight-god (giant robot) sleeping under Thors. The story comes to a climax with the attempted assassination of Osbourne by the terrorist C who turns out to be the Thors student Crow Armbrust, and a coup by the aristocracy, and ends with Thors being occupied by the coup forces led by Crow piloting another knight-god, Ordine, leading into Trails of Cold Steel II.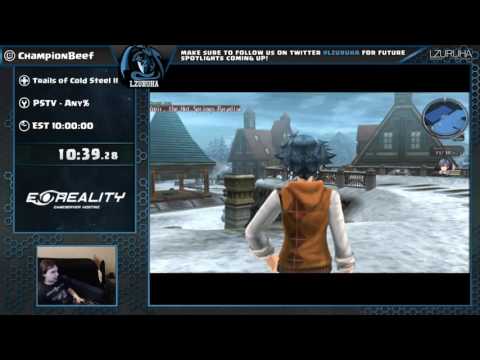 Visit twitch.tv/championbeef for more action if you enjoy this spotlight!